For customization of the sublimation coffee mug to make it be a gift, promotional item, or just a personal item, there are several different ways that people can use like sublimation process, screen printing, laser engraving, water transfer, stickers and so on. Sublimation is the most common and easy crafts. We will introduce sublimation method to transfer coffee mugs in this essay.
The sublimation process is very simple, therefore it becomes more popular for DIY customization. It makes your design to be full color print with detailed artwork. The design will be permanently printed on your mug and you don't need to worry about peeling or scratch off. 
How to sublimate your favorite pattern to the mug?
Let's take an 11oz white cup as an example.If you want to transfer a 11oz white sublimation mug, the materials you need to prepare are sublimation coating mugs, sublimation paper, sublimation printer and ink, high-temperature tape and mug press machine.
Firstly, you need to design an image. Then you can use Epson sublimation printer to print your design on sublimation paper. A4 size sublimation paper is enough for 11oz white mug. When you print the sublimation paper, remember to choose matte paper, standard quality and mirror printing. When the paper is printed, you need to cut the image using the scissors to make it fit on the 11oz white mugs.
Then you can use high temperature heat resistant tape to stick the paper on the mug. Please remember to make the paper flat and not leave a gap in order to achieve good transfer. And now the mug is ready to be sublimated.
Then you can open the mug press machine, remember to adjust the proper pressure before you transfer. After the pressure is good, you can set 180℃temperature and 45s time. The medium pressure is okay. When the temperature is good, put the mug and the mug press will work. And after 45s, the transfer is finished! But it will be very hot, so you can prepare a pair of safety gloves and you can peel off the paper right now or just cool it down. After peel off the paper, you will get a sublimation printed personalized mug!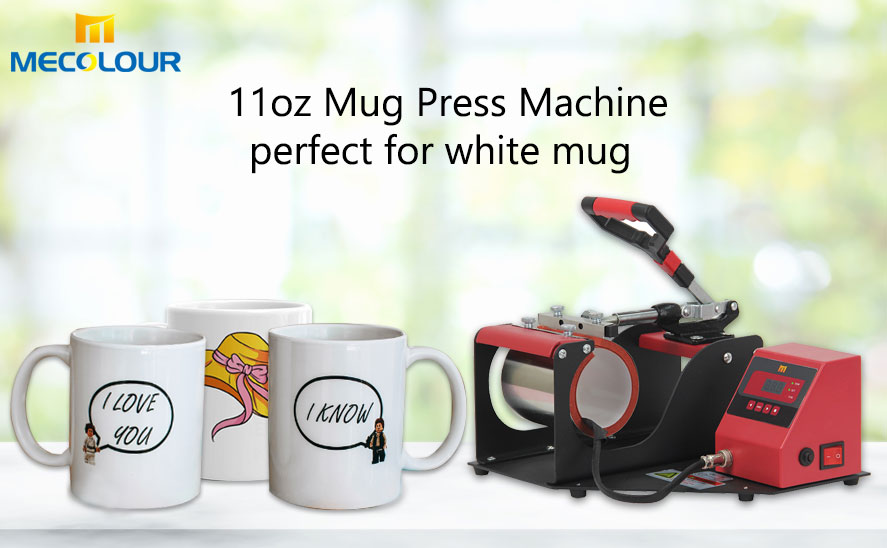 What is sublimation?
The principle of sublimation is that the sublimation ink will melt into the cup after high temperature. It is a permanent customization that will can be kept for a long time.
The material you need to create your own sublimation mugs can be found at any printing suppliers. We mecolour is the sublimation experts! We can offer you equipment and consumables for mug printing like printer, ink, heat press machine, sublimation paper, sublimation mugs, heat resistant tape and so on with factory direct price.
Mecolour sublimation blanks factory has many diffferent types mugs like white ceramic mugs, colored mugs, glass mugs, sparkle mugs, glitter coffee mug, magic mugs, beer mugs, white sublimation tumblers and so on. Shop now to get the lowest prices!